All-On-4 Permanent Dentures at Dental Excel
Traditional dentures are a reluctant necessity for some people. Often, they were unable to receive standard dental implants due to insufficient bone density. Talk to us about permanent dentures and forget about cumbersome, loose and ill-fitting traditional sets of dentures for good.

For many people dentures are cumbersome, uncomfortable and constantly loose. This makes them feel uneasy about smiling and eating. All-On-4 implant permanent dentures from Dental Excel can help you regain your permanent smile and your confidence.
For more information about All-On-4 implant retained permanent dentures, make a dentist appointment to have a consultation with your local Dental Excel practice dentist in Bracken Ridge and on the Sunshine Coast.
Dental Implants
The Dental Implant Centre at Beerwah Dental Excel offers patients a relaxed environment and high quality dental care. Replace missing teeth permanently and throw your dentures away for good with dental and mini implants.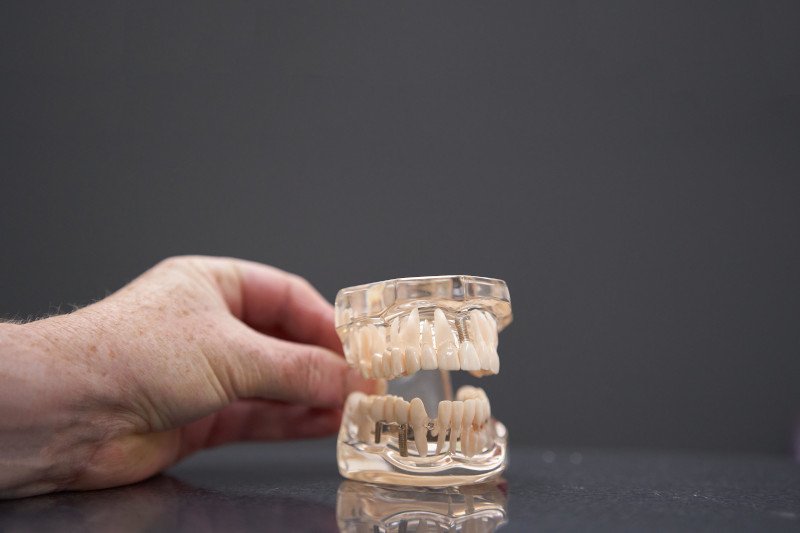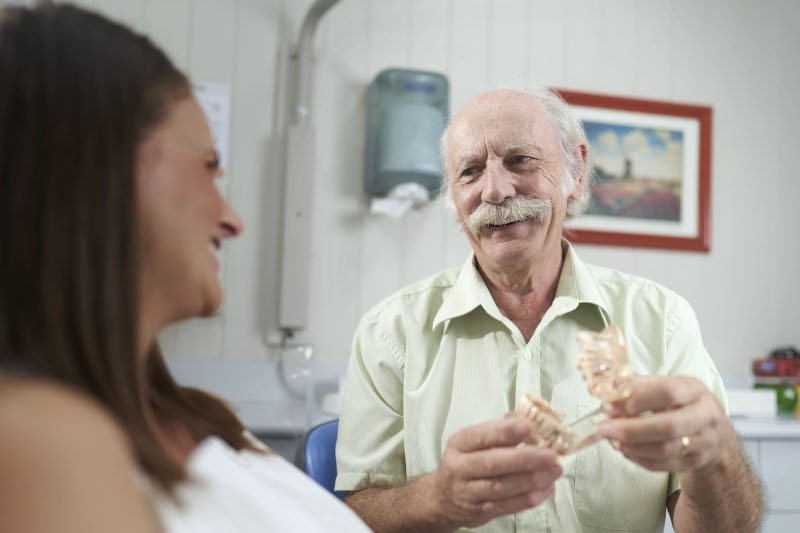 Denture stabilisation
Mini dental implants are ideal for candidates with limited bone anatomy and are increasingly used to stabilise full lower dentures. Visit Dr David Marley at Dental Excel Beerwah for your free comprehensive assessment.
About the permanent denture procedure
A dental implant is a fine titanium screw or rod placed into the jaw bone to replace a missing tooth root. Titanium has been used successfully in reconstructive medicine for many years as it naturally integrates with bone. Traditionally a single dental implant is placed vertically. This is used to replace a single tooth or support a dental bridge of up to three teeth. To support an entire upper or lower arch of teeth up to eight dental implants were necessary.
The All-On-4 dental implant technique
The All-On-4 dental implant technique enables you to have a set of upper or lower permanent dentures. These can be secured with as few as four dental implants. This innovation is made possible because two of the implants are slightly longer than traditional implants. They are also placed at an acute angle at the front of the mouth where your jaw bone is denser and stronger. This provides the greatest support for your dentures.
Preparing for your procedure
Preparing for your procedure is the most important phase of your treatment.  At our Bracken Ridge and Sunshine Coast dentist practices we explain the procedure in detail, develop a tailored treatment plan and answer your questions in non-medical terminology.
The first step is to make a dentist appointment to complete a comprehensive examination of your oral health to determine your suitability. One of the main advantages of All-On-4 is only a very small percentage of people are unsuitable for this procedure. Your tooth roots are responsible for keeping your jaw bone strong and healthy. If you have been missing teeth for some time, it's possible to have lost some bone density and volume.
An x-ray is taken which produces a highly detailed image of your bone structure. This is then used to evaluate your bone quality and quantity using advanced computer imaging software. Your Dental Excel dentist uses this information to develop a tailored treatment plan, outlining the optimal placement of your implants.
For the placement of your permanent dentures you will be referred to a specialist oral surgeon. The surgeon will place your dental implant during a minor surgical procedure. Once your implants are in place, a temporary set of teeth are secured.
Recovering from your procedure
Every patient is different and your complete recovery will depend on your oral and general health. Most people return to work and their normal daily routine the following day and the average time for implants to integrate fully with your jaw bone is three to six months.
Biting and chewing places extreme pressure on your teeth and gums. At Dental Excel we advise you to have a soft food diet for at least two months after receiving your implants. If you experience any discomfort it can be relieved with a cold compress and over-the-counter medication.
You may also be required to visit Dental Excel one week, four weeks and 12 weeks after your procedure. We'll can assess your recovery and ensure your implants and gums are healing properly. Finally, we create detailed impression moulds of your gum line and take photographs. This will ensure your new smile looks natural and your teeth bite together perfectly.
After receiving your All-On-4 dental implants and your new permanent dentures, it is essential you maintain thorough at-home brushing and flossing routine to keep your gums healthy so they can support your new teeth. You should also schedule regular appointment checkups every six months with us at Dental Excel to ensure your implants remain strong.
Your Queensland Dentist Locations
Need to see a dentist in Brisbane North or on the Sunshine Coast? You're in luck, Dental Excel have a dental clinic near you!
How to book an appointment
Book your appointments online for Beerwah and Bracken Ridge Dental Excel locations at the current time. Request an appointment here or use any of the on-page contact forms and select your preferred location from the drop-down menu.