Teeth Whitening at Dental Excel
At Dental Excel, teeth whitening dentist appointment treatments have become the most popular of all cosmetic dental procedures. A naturally brighter, whiter smile can help enhance your appearance and provide a personal and professional self-confidence boost.
Book online for our Beerwah and Bracken Ridge locations.
This quick and pain-free procedure can restore your smile's captivating brightness. Teeth whitening can either be achieved by a Zoom! whitening using a light to make whitening speedier (in approx 1.5 hours), or teeth whitening can also be achieved with the new Polar home bleaching system. The patient has a close fitting tray made at Dental Excel and is supplied with a kit to take home and bleach their teeth at their own pace.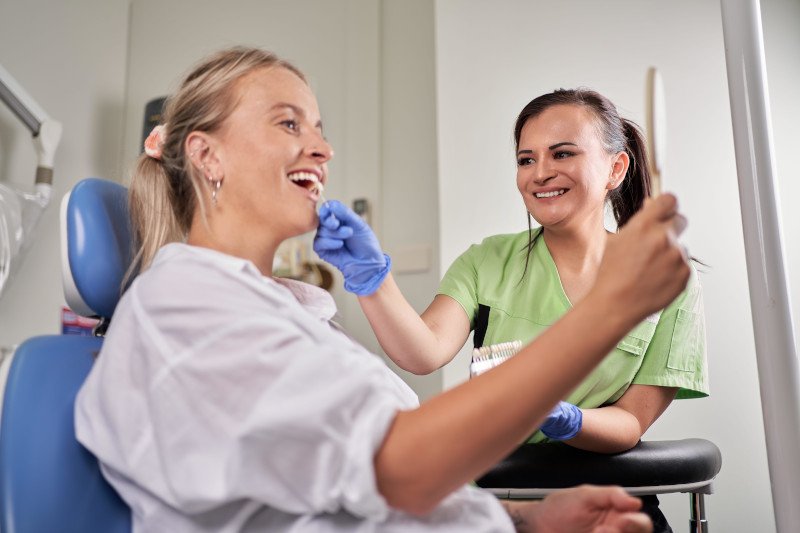 Safe for the teeth and gums
All teeth whitening treatments available at Dental Excel have undergone extensive testing to ensure they are completely safe for your teeth and gums. Depending on the colour of your teeth and the shade you wish to accomplish, results will vary from person to person, however many Dental Excel patients achieve a fresh new smile that lasts for two years or more.
Why whiten your teeth?
It's an unfortunate fact that some of our favourite things like coffee, tea, red wine, chocolate and heavily dyed foods such as curries, together with the natural ageing process and tobacco use can contribute to your teeth not looking as white and bright as they should or once were.
That's why Dental Excel offers the very latest options in teeth whitening.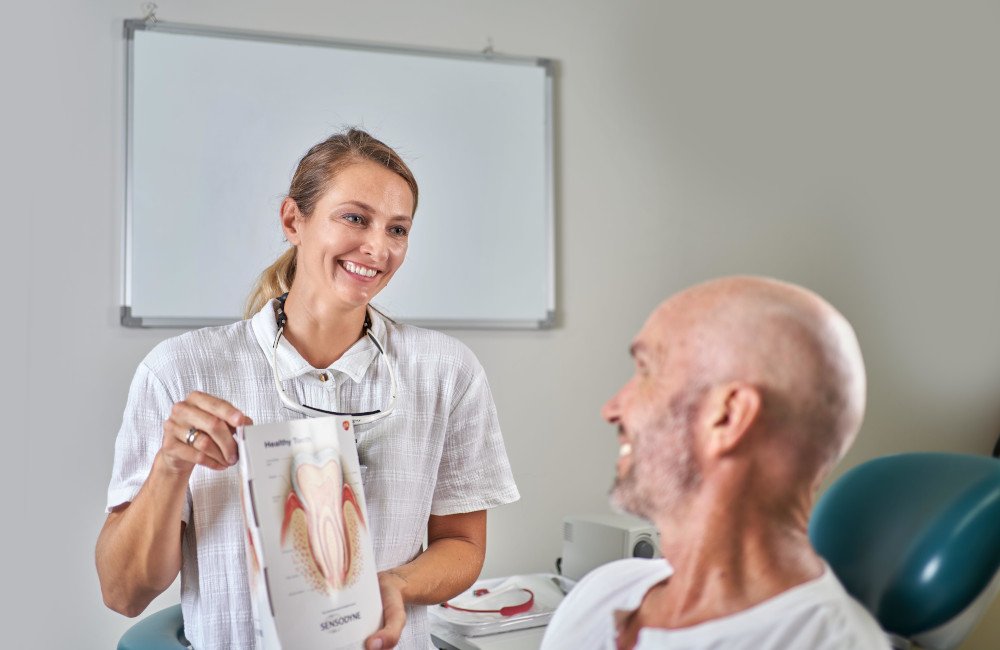 Zoom! teeth whitening treatment
At Dental Excel, we use and recommend the Zoom! teeth whitening system. A bleaching process that lightens the discolouration of tooth enamel and dentine, Zoom! teeth whitening is safe, effective and very fast, giving you brighter, whiter teeth in less than an hour.
Zoom! is the world leader in teeth whitening technology. Once you've attended your dentist appointment and are relaxed and comfortable in one of the Dental Excel's patient lounges, the procedure begins with a short preparation to protect your lips and gums before the specially formulated Zoom! whitening gel is applied to your teeth. This gel is exposed to an ultraviolet light, causing the active ingredients to break down stains and lighten your tooth enamel. This is a painless procedure but you may feel a slight warmth from the light.
Depending on your personal circumstance and the shade you wish to achieve, the gel may be re-applied every 15 – 20 minutes with the entire procedure lasting between 45 minutes to an hour.
Considerations before teeth whitening
Teeth whitening can only be done if you are in good oral health. Before commencing with your Zoom! whitening procedure, your Dental Excel Sunshine Coast or Brisbane dentist will conduct a comprehensive examination of your teeth and gums. They will also talk with you about your oral hygiene and lifestyle habits to maximise the longevity of your result.
Following your procedure it's recommended that you abstain from tea, coffee, red wine and other highly coloured foods for at least 48 hours and not smoke for at least four days as this will significantly impact your results.
Teeth whitening treatments have been performed all over the world for many years. Although some people may experience a degree of sensitivity to heat and cold following their treatment, this usually subsides after a couple of hours, using a sensitive toothpaste can also help. If sensitivity continues you should contact our team at Dental Excel for advice.
Teeth whitening is only effective on natural tooth enamel and will not change the colour of porcelain crowns, bridges or white fillings. If your new teeth whitening shade is lighter than your restorations you may need to consider having them replaced. Talk to your Dental Excel Sunshine Coast or Brisbane dentists about your options and the solutions that are best for you when you come in for your next dentist appointment.
More cosmetic dental treatments
We offer two types of dental veneers at Dental Excel. It is another one of our most popular cosmetic procedures. Dental veneers can address gaps, chips, stains or misshapen teeth allowing you to smile more confidently.
Dr Shirly Atia offers facial injectables and dermal fillers to enhance your smile and tackle fine lines. Treatments available at Beerwah, Palmwoods and Wurtulla Dental Excel locations.
Orthodontics is dentistry dedicated to the prevention and treatment of the misalignment and bite of the teeth and jaws. The treatment aims to achieve a functional bite and attractive cosmetic appearance.
Browse more Dental Excel Dental Treatments