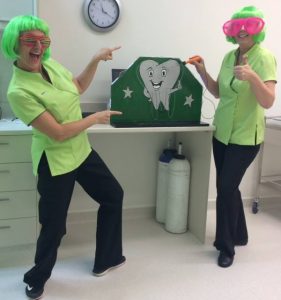 Dental Excel had so much fun at the annual Beerwah Street Party this year. We really enjoy connecting with the community, sharing our commitment to your dental health and having some fun at the same time!
The annual Beerwah Street Party was first introduced by the Sunshine Coast Council in 2014 to highlight and celebrate the recently-completed improvements to the area.
The event was such a huge success, and attracted far more people than was originally expected, that an independent committee was formed to make the event an annual one with the support and enthusiasm of all the local businesses on Simpson Street.
This year marked the fourth annual street party in Beerwah and was another great success, with thousands of Sunshine Coast residents turning out to take part in the festivities. The local Beerwah business community joined in with street stalls selling everything that Beerwah has to offer, and some amazing food to keep everyone happy and well fed during the entire event.
Dental Excel at the Beerwah Street Party 2017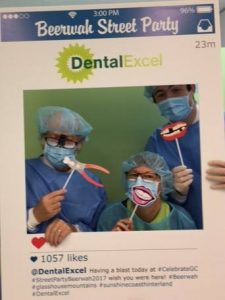 The Dental Excel stand saw many locals participate in our Instabooth, using 'dental props' to pose for photos. Our dentists joined in the fun, embracing the cardboard props and generally being not to serious!
David's wire loop game took some concentration to complete, but was a huge success and drew some laughs too! Our 'party bags' flew out, and all-in-all, the evening was enjoyed by everyone. The Beerwah Street Party is a great way to begin getting ready for Christmas, and we enjoy connecting with our locals in a fun way. Not everyone embraces the dentists chair, but we are a great bunch of people, and do our best to make everyone feel at ease with us.
Dental Excel Beerwah dentists know how to have some fun, as well as how to care for our local residents' oral health. Dentists don't have to be dull! We are already looking forward to next year's event