Non-surgical Facial Cosmetic Aesthetics
Dental Excel's Dr Shirly Atia is delighted to offer Excel Facial Aesthetics – a non-surgical approach to your goal of a confident smile. You can book your facial injectables treatments with Dr Shirly at our Beerwah, Palmwoods and Wurtulla locations.
High quality non-surgical facial cosmetic injectables and dermal fillers treatments available in a sterile environment. These procedures also provide relief from the pain associated with TMD (clenching or grinding of the teeth).
Dr Shirly enjoys working closely with her clients to achieve the best possible results and help them meet their smile goals. Call your preferred location to book your free facial aesthetics consultation today at Dental Excel Beerwah, Palmwoods or Wurtulla.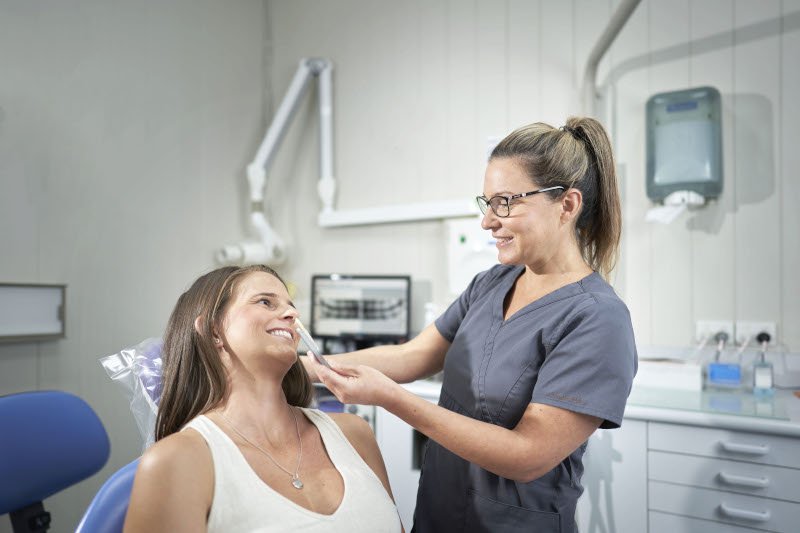 Meet Dr Shirly
Dental Excel's Dr Shirly is a dentist well-known for her caring, holistic approach to patient care. Find out more about Dr Shirly and read her profile here.
FAQs about Facial Injectables
Why Facial Aesthetics?
As we age, our facial structure changes in many ways. Skin cells do not rejuvenate as quickly or absorb moisture as easily. This can lead to weakening collagen, elastin and hyaluronic acid levels in the skin. The volume of fat under the skin reduces and can lead to thinning and sagging of the face and facial bones and muscles lose the tone and strength they need to support the tissues.
Facial aesthetics treatments can also be used to treat scar tissue and support other muscular weaknesses or injuries. It is also a proven treatment to help relieve the pain caused by grinding or clenching of the teeth or the symptoms of TMD (Temporomandibular Joint Disorder).
What are Dermal Fillers?
Dr Shirly uses a smooth gel-based dermal filler with a local anaesthetic added during manufacture, ensuring maximum comfort for the client. She addresses the small lines and wrinkles around the mouth giving a smooth appearance instantly. Dermal Fillers can offer fast results that can last for up to 12 months.
Some of the most common areas dermal fillers and injectables are used for are:
Smile lines around the mouth and nose
Smokers lines above the upper lip
Rejuvenation of the lips
Marionette lines (those which run from the corners of the mouth toward the chin)
And more.
What do they do?
Dr Shirly uses facial injectables and dermal fillers to help stimulate weakening muscles and replace diminishing support around the mouth. She is trained in relaxing certain muscles to change the shape of the mouth, which can reduce gum exposure. The products she works with are safe and popular and have local anaesthesia properties for maximum comfort.
How long does it take?
Facial aesthetics procedures with Dr Shirly typically take just minutes following a relaxed, friendly consultation. It is not uncommon for slight swelling or inflammation to appear immediately after a procedure – this usually wears off within a short time.
For some treatments, the results are immediate and for others, the best results are commonly seen working within just 3-10 days following the procedure.
Will I need to take time off work?
No. Your procedure should typically take no longer than 30 minutes and most clients are happy to carry on with a normal day afterwards. Your unique treatment will be discussed with you in advance and tailored to suit your needs and schedule.
How to book your consultation at Excel Facial Aesthetics
Book your facial aesthetics consultation with Dr Shirly Atia at the new facial aesthetics clinic at your Dental Excel location. Call Dental Excel on (07) 5494 0199 to find out more or to book your first consultation.
More cosmetic dental treatments
Orthodontics is dentistry dedicated to the prevention and treatment of the misalignment and bite of the teeth and jaws. The treatment aims to achieve a functional bite and attractive cosmetic appearance.
Choose from two types of dental veneers at Dental Excel. Dental veneers can address gaps, chips, stains or misshapen teeth allowing you to smile more confidently. Get in touch with your nearest location to find out more.
We offer the Zoom! teeth whitening treatment at all our locations. Talk to us and book your free consultation online.
Browse more Dental Excel Dental Treatments